HRD minister releases All India Higher Education Survey(AIHES) 2016-17 report
2 months ago Rishita Raj 0
The Human Resource Development Minister Shri Prakash Javedkar releases the All India Higher Education Survey (AIHES) report 0f 2016-2017 in New Delhi.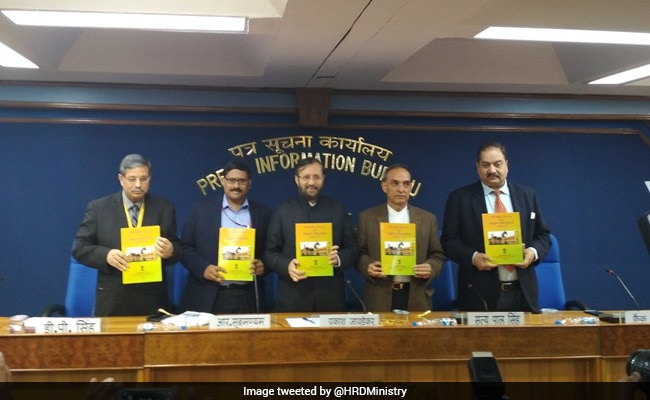 "The main hope of a nation lies in the proper education of its youth." is well said.
The AIHES survey report consists the following information:
->The Gross Enrolment Ratio(GER), is a ratio of youths enrolled in higher education such as undergraduates, postgraduates, research works etc in the age group(18-23)for the year 2016-17 is 25.2% is a significant increase as compared to 19.5% in 2010-11, 24.5% in 2015-16.Tamil Nadu in India has the highest GER with 46.9%  while Bihar at the bottom with 14.4%.The country aims to achieve the target of  GER of 30% by 2022.India lags behind from countries such as China(has GER 43.39 ), US(GER 85.8%).The results were not much remarkable this year.
->The Gender Parity Index(GPI), the ratio of enrolment of no.of females to that of males is 0.94 in 2016-17 which was 0.84 in 2010-11.There are seven states Goa, Himachal Pradesh, Meghalaya, J&K, Nagaland, Sikkim, and Kerala — women in higher education have outnumbered men.To eradicate this gender inequality government is also planning to increase quota in IITs for girls.
->It also talks about the number of colleges per lakh total population.South Indian states have high college density as compared to other parts like Telangana(59), Karnataka(53), Bihar(7) and so on.South Indian states consist most of the good medical and engineering colleges too.
->The number of foreign students as compared to past years has not increased much.In 2015-16 survey it was about  45,424 which has increased to 47,575 in 2016-17.It mostly consists of students from the nearby countries such as Nepal, Bhutan.
This AIHES survey was initiated in the year 2011 to collect data about the higher education.The obtained result was proven fruitful for further designing of plans to make progress and development, so it was made an annual exercise of the collection of data.So far, the results of surveys completed are available at www.hrd.gov.in. AIHES Survey includes all the universities, colleges, stand-alone institutions.
The AIHES survey for 2017-18 has also been launched with this.