India's first coastal academy to be set up in Gujarat.
2 weeks ago Rishita Raj 0
Nearly,  a decade after a major sea-borne attack in 2011  (26/11 terror attack )in the nation, which despite security and tough vigilance left the nation in pain, the Country's first coastal academy is soon to set up in Gujarat to train the police forces in safeguarding the shoreline by April 2018.
The Union home ministry has approved the launch of the National Academy of Coastal  Policy(NACP) from Gujarat's fisheries research centre campus, located in coastal Okha in the Dwarka district.The NACP is a kind of first ever built policy in India which will run under consideration of paramilitary and defence forces which will trail marine forces of the states along the coastline. This is a prelude to setting up the coastal academy.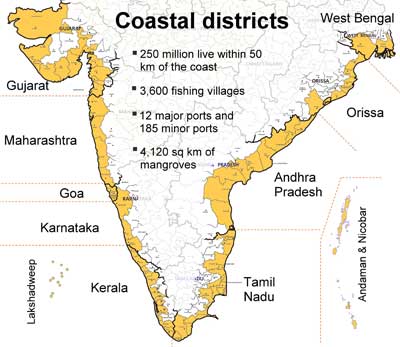 There are 9 states and 2 union territories in India along the coastline, they are, Gujarat, Kerala, Tamilnadu, Andhra Pradesh, Karnataka, Goa, Maharashtra, Orissa, West Bengal and 2 union territories, Andaman and Nicobar Islands, Lakshadweep which makes up the total 7,517km.Gujarat is the largest Coastline state followed by the Andhra Pradesh. Hence, a coastal academy is required which trains the coast police.
The Border Security Force(BSF) will form a core committee as well as will also provide security to the Arabian Sea Coast campus which is at a flying distance from the Pakistan Coast.The Indian Navy and The Indian Coast Guard(ICG)will form the rest of the core committee providing the skilled trainers and managing access to boats and other training equipment for the academy's training.Gujarat government will provide two interceptor boats stationed at Okha to the academy. It will have faculty from Indian Navy, BSF and ICG.
The mentioned core teams will provide training in various disciplines such as Seamanship, Boat work, Navigation, Weapons handling, Usage of sea guidance and many more.Yet the nation did not have any such organisation to train the coastal police forces professionally.
"There is no institute in the country that trains marine or coastal police forces in these subjects in a professional manner. That is why the academy will be first-ever and the best practices of various agencies like the navy, the BSF and the Coast Guard will be borrowed by it for teaching purposes," a senior official privy to the development said.He also added that the academy will run temporarily for about three years from the fisheries department campus at Okha. In the meantime, a new permanent campus will be created for the academy in Dwarka district. Initially, with the budget of Rs 1 crore, the academy will use 24 quarters of the fisheries department.